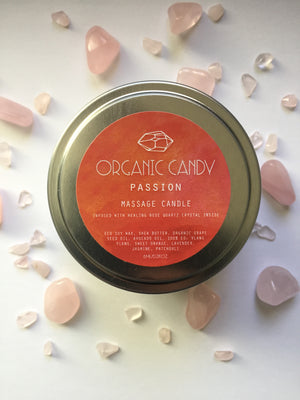 Passion Massage Candle
Sale price Price $25.00 Regular price
Ignite the passion in your life
---
THE RITUAL
Light the candle and let the aroma fill the room to set the mood for about 20 min. Blow flame out, test temperature then drizzle a small amount into your hand before applying to your partner. Now let the passion take you on an unforgettable journey.
---
MEDITATION EXERCISE
Sit or lay comfortably, Take the time to connect with your breath. You can use visualization to help you focus, matching your breath to beautiful ocean waves. As you exhale, picture the wave breaking on the sand. As you inhale, see it rolling back into the sea. Observing any thoughts that come to your mind without judgment, allowing them to float away and dissolve.
Repeat daily 5- 20 min

Meditation is the golden key to all the mysteries of life -Bhagwan Shree Rajnneesh
THE INGREDIENTS
Eco soya wax, vitellaria paradoxa (shea) butter, persea americana (Avocado) oil, vitis vinifera (grape seed ) oil, 100% pure essential oils of Canada odorata (Ylang Ylang), citrus aurantium dulcis (sweet orange), jasminum officinale (jasmine), pogosteman cablin (Patchouli)
View Essential Oil Information Here
INFUSED WITH ROSE QUARTZ CRYSTALS INSIDE!
---
SENSIBLE CAUTIONS
Never leave a candle unattended. Keep out of reach from children and pets. EXTERNAL USE ONLY
---