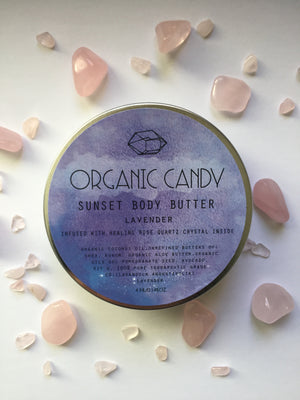 Sunset Body Butter
Sale price Price $35.00 Regular price
Indulge your senses in this pure Lavender body butter. Leaves you wonderfully nourished and conditioned as you sleep like a baby or encourages for a smooth relaxing day.
---
THE RITUAL
Apply over your whole body am/pm and massage until fully absorbed. Promotes relaxation while leaving you irresistible to the touch. EXTERNAL USE ONLY
---
THE INGREDIENTS
Organic cocos nucifera (Coconut) oil, unrefined vitellaria paradoxa (Shea) butter, organic aloe barbadensis (Aloe) butter, unrefined garcinia indica ( Kokum) butter, punica granatum (pomegranate) oil, Organic persea americana (avocado) oil, vitamin e, 100% pure organic therapeutic essential oil of: Lavandula Angustifolia (Lavender)
View Essential Oil Information Here
INFUSED WITH ROSE QUARTZ CRYSTALS INSIDE!
---
SENSIBLE CAUTIONS
Organic Candy products MUST be kept away from heat and light ( keep away from sky lights in bathrooms).
Store in a cool, dry place away from direct light otherwise products may go off or separate.
---