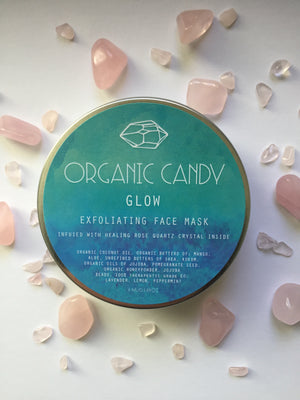 Glow Exfoliating Face Mask
Sale price Price $40.00 Regular price
Gently remove dead skin cells and impurities while remineralizing with vitamins and nutrients leaving your skin noticeably smooth and glowing.  
---
THE RITUAL
Use 1x a week on towel dried clean skin. Gently massage in circular motions while 100% biodegradable jojoba beads remove impurities. You can leave on for 5-10 min to nourish and rinse off.
---
THE INGREDIENTS
Organic cocos nucifera (Coconut) oil, organic Mangifera indica (Mango) butter, unrefined vitellaria paradoxa (Shea) butter, organic aloe barbadensis (Aloe) butter, unrefined garcinia indica ( Kokum) butter, punica granatum (pomegranate) oil, Organic simmondsia chinensis (jojoba) oil,  jojoba beads, Vitamin E, 100% pure organic therapeutic essential oil of: Lavandula Angustifolia (Lavender), citrus limon (Lemon), Mentha piperita ( Peppermint)
View Essential Oil Information Here
INFUSED WITH ROSE QUARTZ CRYSTAL INSIDE!
---
SENSIBLE CAUTIONS
Organic Candy products MUST be kept away from heat and light ( keep away from sky lights in bathrooms). Store in a cool, dry place away from direct light otherwise products may go off or separate.
---