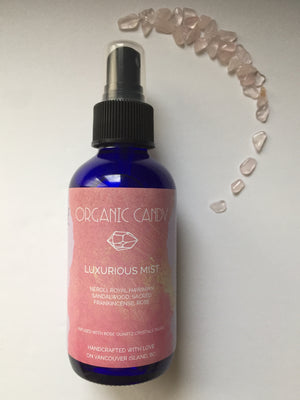 Luxurious Mist
Sale price Price $40.00 Regular price
Renew your skin and relax your mind with this luxurious blend of Neroli, Royal Hawaiian Sandalwood, Sacred Frankincense and Rose.
---
THE RITUAL
Shake well before each use. Hold 6 to 8 inches away from face, close eyes and mist as you take a deep breath in. Best after cleansing and again after applying mineral makeup to set as well as anytime throughout the day. It's fragrant influence helps bring everything into focus encouraging confidence, courage, joy, peace and sensuality. Suitable for all skin types, especially mature, dry and dehydrated.
---
THE INGREDIENTS
 Distilled water, 100% pure organic therapeutic grade essential oils of; Citrus Aurantium (Neroli), Boswellia Sacra ( Sacred Frankincense), Santalum Paniculatum ( Royal Hawaiian Sandalwood), Rosa damascena (Rose)
View Essential Oil Information Here
INFUSED WITH ROSE QUARTZ CRYSTAL INSIDE!
---
SENSIBLE CAUTIONS
There are no added chemicals to disperse the ingredients throughout, so it is VERY IMPORTANT you shake the bottle well before EACH USE! Organic Candy products MUST be kept away from heat and light ( keep away from sky lights in bathrooms). Store in a cool, dry place away from direct light otherwise products may go off or separate.
---