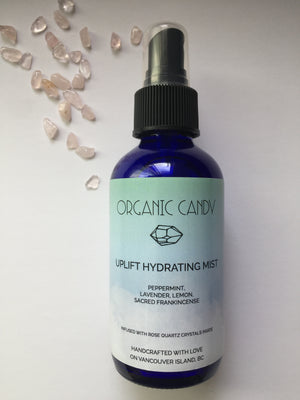 Uplift Hydrating Mist
Sale price Price $35.00 Regular price
Awaken your skin and senses with this uplifting blend of Lemon, peppermint, Lavender and Sacred Frankincense. Antioxidants, vitamins and minerals help provide protection from environmental stress and pollutants as well as help to invigorate the skin with healthy cells.
---
THE RITUAL
Shake well before
each use
! Hold 6-8 inches away from face, close eyes and mist as you take a deep breath in. Best after cleansing and anytime throughout the day to uplift the spirits and help relieve seasonal allergies.
---
THE INGREDIENTS
Distilled water, 100% pure therapeutic grade essential oils of Citrus Lemon ( Lemon), Mentha Piperita (peppermint), Lavandula Angustifolia (Lavender), Boswellia Sacra ( Sacred Frankincense)
View Essential Oil Information Here
INFUSED WITH ROSE QUARTZ CRYSTALS INSIDE!
---
SENSIBLE CAUTIONS
There are no added chemicals to disperse the ingredients throughout, so it is
 VERY IMPORTANT
 you shake the bottle well before 
EACH USE!
Organic Candy products MUST be kept away from heat and light ( keep away from sky lights in bathrooms).
Store in a cool, dry place away from direct light otherwise products may go off or separate.
---