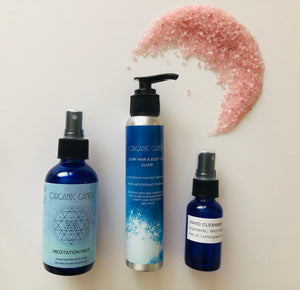 Bliss Out Wellness Package
Sale price Price $65.00 Regular price $85.00
This package includes a Surf Hair and Body Oil Elixir and Meditation Mist to encourage daily self care rituals,  ease tension and bliss out!  *Also includes a complimentary natural hand cleanser. 
~SURF HAIR AND BODY OIL ELIXIR~   120 ml/ 4 fl oz    
Light weight and fast absorbing, this antioxidant rich formula combines jojoba oil, avocado oil, vit E along with pure therapeutic grade essential oils of Lavender, Spearmint and Ylang Ylang's euphoric scent to renew skin and hair health while encouraging mental clarity and emotional balance.
Antioxidant properties encourage healthy cell growth while Ylang Ylang will boost and revitalize dull looking hair.  It helps improve skin elasticity and the bodies ability to develop new skin cells, while working to soften wrinkles and scars.
THE RITUAL: Can be used daily everywhere!! Body, face, hair and in the bath!  simply use daily all over your body and run a drop through the ends of your hair or a few pumps in the bath. Can also be left on scalp and all throughout hair over night for a more intensive treatment. * Works great as a pre and post beard shave oil for men. * Excellent for massage and can also be used as an oil face cleansing method. 
INGREDIENTS: Simmondsia chinensis ( Jojoba) oil, Persea americana ( Avocado) oil, via E, 100% therapeutic essential oils of: Cananga Odorata (Ylang Ylang), Lavandula Angustifolia (Lavender), Mentha Spicata ( Spearmint)
LAVENDER( Lavandula angustifolia)  Helps combat excess sebum on skin, antiseptic, anti inflammatory. Good for skin conditions such as acne, eczema, psoriasis, scarring.
Fragrant influence: calming, relaxing and balancing both physically and emotionally. Helps improve concentration and mental clarity.
YLANG YLANG (Cananga Odorata)
Ylang Ylang means "flower of flowers" Traditionally used in hair formulas to promote think, shiny, lustrous hair.
Helps with anxiety, depression and hair loss.
Fragrant Influence: Balances male and female energies, enhances spiritual attunement, combats anger and low self esteem, increases focus of thoughts, filters out negative energy, helps restore confidence and peace.
* FUN FACT * Ylang Ylang and emotions~ Ylang Ylang is the oil of the inner child.  It is a powerful remedy for the heart. It encourages play and restores a child like nature and innocence.  It is also a powerful remedy for releasing emotional trauma from the past. It allows emotional healing to flow naturally, nurturing the heart throughout the process.
SPEARMINT (Mentha Spicata) Antibacterial, anti-inflammatory, uplifting
~MEDITATION MIST~    120 ml/4 fl 0z
Sacred and spiritual therapeutic essential oils will help reduce stress, improve focus, and restore internal balance.  Promotes higher states of spiritual awareness,  relaxation, and higher levels of consciousness. Helps regenerate the skin with healthy cells and reduce wrinkles.
THE RITUAL: SHAKE WELL BEFORE EACH USE* Hold 6-8 inches away from face, close eyes and mist as you take a deep breath in. Use during meditation and yoga to connect with spirit and stay focused. Opens the third eye and crown chakras.
MEDITATION EXERCISE: Sit or lay comfortably, Take the time to connect with your breath.  You can use visualization to help you focus, matching your breath to beautiful ocean waves. As you exhale, picture the wave breaking on the sand.  As you inhale,  see it rolling back into the sea.  Observing any thoughts that come to your mind without judgment,  allowing them to float away and dissolve. Repeat daily 5- 20 min
Meditation is the golden key to all the mysteries of life~
~ Bhagwan Shree Rajnneesh
INGREDIENTS: Distilled water, Bursera graveolens (Palo Santo), Boswellia Sacra ( Sacred Frankincense)
PALO SANTO ( Bursera Graveolens): Palo santo is known as a spiritual oil, with a deep rooted tradition in which it was used by the Incas to purify and cleanse the air of negative energies.
and for good luck! It is currently used by the shamans of the Andes in curing ceremonies.  Palo Santo means "Holy or sacred wood" in Spanish.
PALO SANTO oil is a very powerful antioxidant because of its high D - Limonene content (75-76%) It inhibits the activity of the elastase enzyme and thereby helps prevent the degradation of elastin in the skin, a protein which together with collagen is responsible for the elasticity and firmness of the skin.
Palo Santo oil helps ground and release negative emotions such as anger, fear and obliteration.
SACRED FRANKINCENSE (Boswellia Sacra) It is regarded the world over as the rarest, most sought after aromatic in existence. It contains boswellic acids, which are potent anti-inflammatory agents. It supports skin health in helping to  regenerate the skin with healthy cells and reduce wrinkles.
Fragrant influence~ Calming, meditative, relaxing and promotes higher states of spiritual awareness and higher levels of consciousness.
Complimentary Natural Hand Cleanser ~ Use directly on hands or surfaces as desired to help kill bacteria. 
Ingredients: Witch hazel, Alcohol,  Thieves oil,  Tee tree oil, Lemongrass oil,  Love
~ SENSIBLE CAUTIONS ~
Organic Candy products MUST be kept away from heat and light ( keep away from sky lights in bathrooms).  Store in a cool, dry place away from direct light otherwise products may go off or separate.
FACE MISTS~ There are no added chemicals to disperse the ingredients throughout, so it is VERY IMPORTANT you shake the bottle well before EACH USE!!